It was a sweet deal for Nigghrus who throw balls and team owners. Americans had cable tv. Cable TV was forced to include huge payments to ESPN. Whether you wanted to pay for MoHongo's new gold plated mercedes or not, you did. As the price for cable soared, more americans said Fuck it and move to the internet and just stopped watching TV – a good thing. And slowly from 100 million viewers to 85 million, ESPN is feeling it. Maybe paying dumb men 50 million a year to throw a ball isn't the most egalitarian business model.
When whites cease Negro worship and start switching to sports that whites play and aren't discriminate against with changing rules or just outright bias, then maybe the viewers will come back. Until then, it's just the die-hards, and with the financial pinch, those 100 dollar a game seats and 200 dollar a year cable subscriptions are going to get harder and harder to justify, but brain dead minds need filler, and negro worship is the governments pill.
The NFL keeps most of the quarterbacks white so that fans have someone to cheer for they can relate to, but the majority of the rest of the team, disguised with white arm sleeves, are in fact nigghruz.
Take the story of the Oakland Raiders – "In their quest for a new stadium, the Raiders were told they'd get no money from Oakland, only some land, infrastructure funding and a promise to cut down on bureaucratic red tape (seriously). Las Vegas, meanwhile, offered $750 million in public funding for a stadium, $200 million more in maintenance costs over the next few decades and Bank of America funding,"
So the taxpayers are giving a trillion dollars to RICH BILLIONAIRE sports team owners. I thought Las Vegas was going through a housing bust? Ah but they have taxes from casinos. Intersting. The gamblers funding the Nigghruz. But Vegas has switched to a all american family destination now, so really, its a rape of the travelers.
---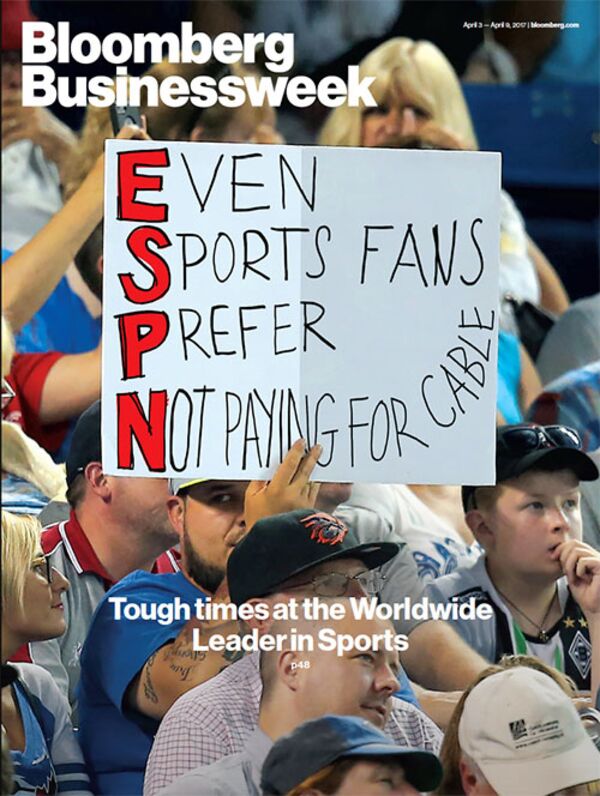 ESPN broke ground on this $175 million, 194,000-square-foot facility, called Digital Center 2, in 2011. It was billed by executives as "future-proof," capable of adapting to any possible change in the way people watch sports. At the time, ESPN looked indestructible. Its namesake cable channel had just topped 100 million subscribers and was posting record profits for its parent company, Walt Disney Co., even as streaming apps such as Netflix were growing rapidly. Ratings for live sports, unlike almost everything else on TV, were soaring. And ESPN had big games year-round—Monday Night Football, college football bowl games, Major League Baseball's opening day, and the NBA playoffs, to name a few. A cover story in this magazine in the fall of 2012dubbed ESPN the "Everywhere Sports Profit Network."
Five years later the network's profits are shrinking, and the 10,000-square-foot SportsCenter studio has already begun to look like a relic. The show's formula, in which well-fed men in suits present highlights from the day's games with Middle-American charm, is less of a draw now that the same highlights are readily available on social media. Viewership for the 6 p.m. edition of SportsCenter, a bellwether for the franchise, fell almost 12 percent from 2015 to last year, according to Nielsen. Keith Olbermann, the SportsCenter-host-turned-political-commentator, put it bluntly on a podcast last year: "There's just no future in it."
SportsCenter is only part of the problem. ESPN has lost more than 12 million subscribers since 2011, according to Nielsen, and the viewership erosion seems to be accelerating. Last fall, ESPN lost 621,000 subscribers in a single month, the most in the company's history. The losses have helped depress Disney's stock price—down 7 percent since August 2015, despite a big jump in the company's film revenue thanks to a string of hits, including the latest Star Wars film, Rogue One. John Malone, the cable entrepreneur and chairman of Liberty Media Corp., has publicly suggested that Disney would be better off selling ESPN.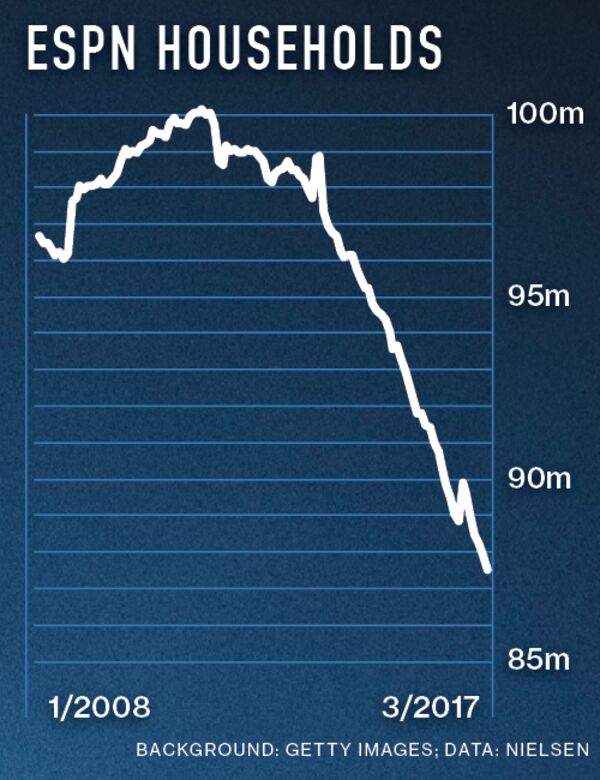 As subscribers leave the network, and often cable altogether, ESPN is stuck with rising costs for the rights to broadcast games. Programming costs will top $8 billion in 2017, according to media researcher Kagan. Most of that money goes to rights fees through deals that extend into the next decade. Last year profits from Disney's cable networks, of which ESPN is the largest, fell for the first time in 14 years. The dip was small, about half a percent, but nonetheless alarming. Rich Greenfield, a media analyst at BTIG Research, says ESPN has been "over-earning," with cable customers paying for the channel as part of their subscription bundle, whether they watch it or not. "It's pretty clear that the years of over-earning are going to end," says Greenfield, who's made a name for himself as an ESPN naysayer. "The question is does it end slowly or fast."