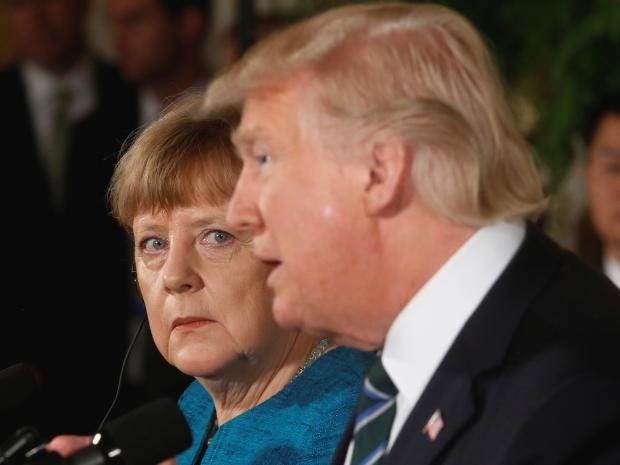 In a precursor to a statement of withdrawl from NATO Merkel was harsh on Trump especially his denouncement of the Paris Treaty which is based on faked scientific data. Global Warming and climate change have been scams from the beginning with scientists caught faking weather data to support it. But it was a control system for world taxation, a key principle for world government, and Merkel as the primary pawn for that system, will not let it go lightly.
Instead she hopes to form a new EU without britain and without the US's NATO military defense. And the US should withdraw its declaration of defense from these rebel countries that no longer want it.
Faced with a western alliance divided by Brexit and Donald Trump's presidency, Merkel said "die zeiten, in denen wir uns auf andere völlig verlassen konnten, sind ein Stück vorbei", or loosely translated "the times in which we could completely depend on others are on the way out" and added that "I've experienced that in the last few days."
Merkel then said that while Germany and Europe would strive to remain on good terms with America and Britain, "we have to fight for our own destiny" and she also said that special emphasis was needed on warm relations between Berlin and newly-elected French President Emmanuel Macron.
Her comments came after Trump said during the G-7 meeting he needed more time to decide if the US would continue backing the Paris climate deal, which has frustrated European diplomats. A subseqent report by Axios, Trump privately told multiple people, including EPA Administrator Scott Pruitt, that "he plans to leave the Paris agreement on climate change" which will likely further infurate his European allies.