Freed of the trump travel ban, a Somali family – a mother and her eight children – are adapting to their new welfare sponsored work free life in Kansas City. They were temporarily halted by Trumps travel ban but with the judge's decision things have moved along and now thousands of Somalis are again flooding America to get our wonderful work free lives and nice housing all courtesy of the US Government's wealth and prosperity.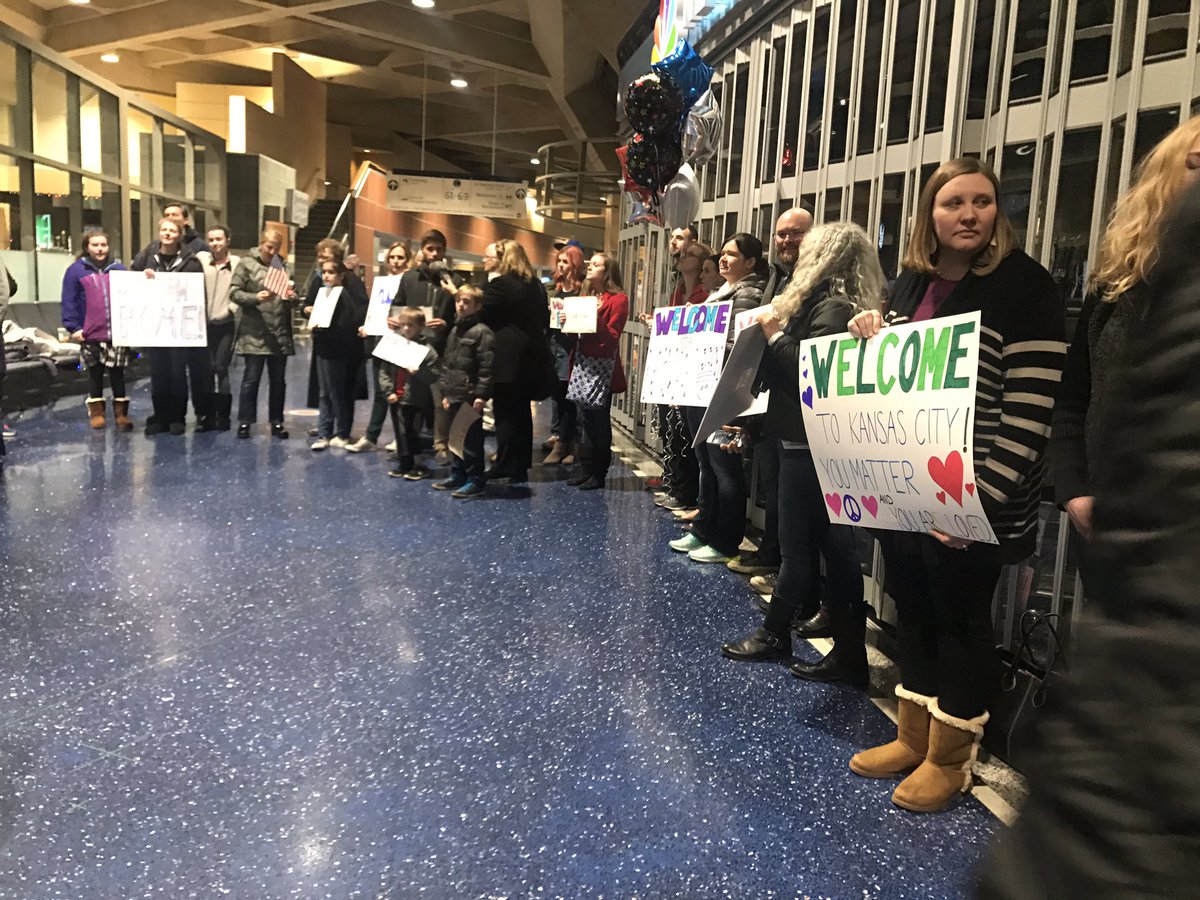 "Love we feel Love" said one unmarried older cat woman. Della Lamb is the name of the refugee resettlement organization and they will get paid for assisting in the seeding of Somali's into the USA. Paid handsomely.
"We get a few hundred thousand per family" said Christian Moodlick, a refugee charity organizer.  "We buy them furniture, clothing, and set up their apartment. We also teach them how to use the new civilization like light switches, toilets, things they have never seen in their entire lives."
The cost of refugee payments and welfare for the fatherless family of eight is estimated to go into the tens of millions. Is it worth it? Ask a homeless vet and they might not agree.
"Based on State Department numbers in 2016, they budgeted $656 million on refugee admission. The Department of Homeland Security budgeted $50 million. And the Department of Health and Human Services budgeted about $720 million.
So all in all the U.S. in 2016 allocated about $1.4 billion to settle refugees in America. And all of this went to settle the 84,994 who came to America in 2016. By our math, that's about $17,000 per refugee.
But the conservative Center for Immigration Studies (CIS) thinks that number is low since it doesn't follow how much money the refugees cost America while they are here." – Circa.com
"The five-year cost of taking a refugee from the Middle East to the United States is more than $60,000."

—Mark Krikorian, Executive Director of CIS
That's 5.1 Billion dollars per year. And there are other costs – police and jails for refugee crime, costs for victims of crime.  All this while millions of Americans are homeless. America First indeed.
The following benefits and services are provided to eligible individuals and families by the Missouri Department of Social Services (DSS), Family Support Division's Refugee Resettlement Program, either directly through DSS, agreements with other Missouri state agencies, or contracted agencies.
Missouri Department of Social Services/Family Support Division:
Refugee Cash Assistance — for those not eligible for other forms of cash assistance (Temporary Assistance, Supplemental Security Income), for up to eight months from date of entry to the U.S. Cash benefits are based on the Temporary Assistance levels of payment.
Refugee Medical Assistance — for those not eligible for other forms of MO HealthNet Assistance, for eight months from date of entry to the U.S.
Missouri Department of Health and Senior Services:
Refugee Health Coordination — provides medical screenings to newly arriving refugees. The program objectives are to reduce the spread of infectious disease and promote preventative health practices to facilitate refugees' full participation in activities that encourage self-sufficiency and integration.
Missouri Department of Elementary and Secondary Education:
School Impact Program — supports impacted school districts with funds to assist with activities that lead to effective integration and education of refugee children. Targets school-age refugees with activities that include, but are not limited to, programs such as English as a Second Language (ESL) instruction, after-school tutorials, parental involvement programs, and summer clubs and activities.
Contracting Agencies
Missouri's Department of Social Services, Family Support Division, Refugee Resettlement Program, through contracts issued to resettlement agencies, provides the following four programs for refugees:

Social Services Program — supports employability services and other services that address barriers to employment, such as social adjustment services, interpretation and translation services, child care, citizenship and naturalization services, etc., for refugees that have been in the U.S. less than sixty months. All contracted agencies provide services under this program.
Targeted Assistance Formula Program — provides funds to areas of the state that have an influx of refugee arrivals and a high concentration of refugees utilizing public assistance.
Services to Older Refugees Program — serves refugees aged 60 years and above, to link to mainstream aging services in their community, provide services not available in the community, create opportunities to live independently, and to provide or assist with naturalization services.