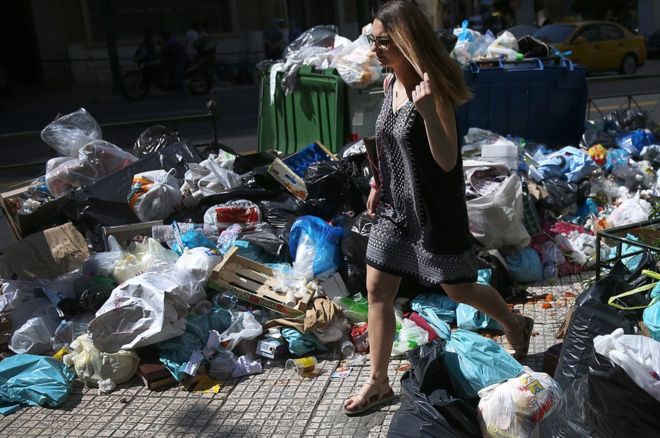 Since the start of the week, piles of rubbish have been mounting in cities across Greece, in a dispute over thousands of refuse collectors' jobs.
Tourist areas of Athens were among those worst affected. Problems were also reported in the northern city of Thessaloniki and the island of Corfu.
Protesters marched on the interior ministry in the centre of Athens as a 24-hour strike took hold.
They fear up to 10,000 workers could lose their jobs as their contracts end.
At one point on Thursday, protesters set fire to rubbish outside the interior ministry and threw paint at the building. Riot police fired tear gas to stop the building being stormed, reports said.
For days, members of the municipal workers' union have blocked refuse lorries from entering the main depots as the dispute escalates, leaving some street pavements an obstacle course for pedestrians.
Borrow huge amounts of money for cushy government retirements, then the nation suddenly can't pay the loans back. But the rich and spoiled retired workers don't give any money back. In Greece many retired at age 50. It's a pattern repeated – Puerto Rico is similar.
These huge pension plans and early retirement for government workers is just socialism. Death and Garbage for the nations await.