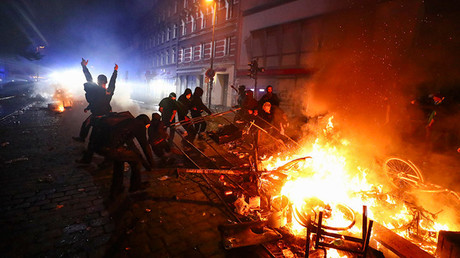 G20 protesters spilled out of control yesterday as things took on the traditional path of Antifa's and cop standdowns – they set fire to everything they could.
Hamburg resembled a burned out war zone for the second time since WWII. And it's all with Angela Merkel's blessing.
One more reason why Antifa has to be de-masked and dealt with harshly as soon as possible in America lest our cities also resemble a burned out war husk. But Berkeley mayor continues to issue stand down orders it only incites them to more violence and barbarism. We must learn and learn fast. The george soros funded antifa group has one goal, to bring in immigrants and muslims and get them welfare. They are big government communists demanding handouts, it has nothing to do with fascism. They believe enforcing borders is fascism. IT's time for Trump to step it up a notch.