"DAS RACISS DAS RACISS DAS RACISS" said Kama Umbutu losing her breath from screaming. The reaction to the Korean comedy show where a korean woman tries to look black using mud on her face and fake dreads, a stick of celery sticking up from her head, is apparently offensive to black people.
"How dare they do that!" screamed Dawntavius Samaticia. "That is racial oppression" said the triggered black leftist.
"We make the wigs from old noodles" said an actress.
The spearchucker is a common theme complete with neck rings. "WE love black people in Korea" said Tommy Tan.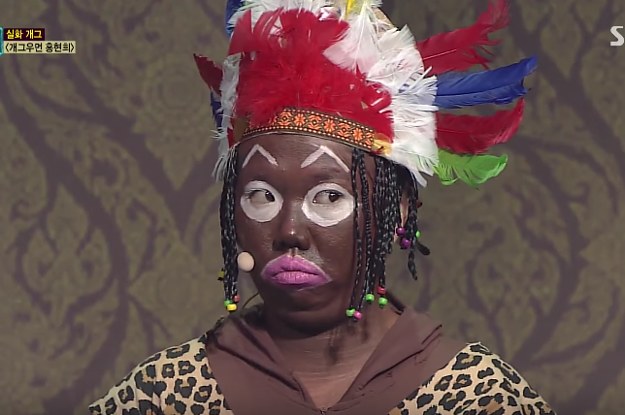 Koreans don't feel racial guilt and don't have a population of 45 million blacks among them to try and shame them. So they get to do what they want. They are just having fun
"Blacks are Low IQ and funny" said Amy Tran, "So of course we use them in our comedy!"
Apparently it all started with a new comedy show which featured a segment called "The Blacks".
Actually the play was quite funny, showing negros as dumb spear chuckin rag heads was quite fascinating to see how koreans see black people. They did a great job!
!