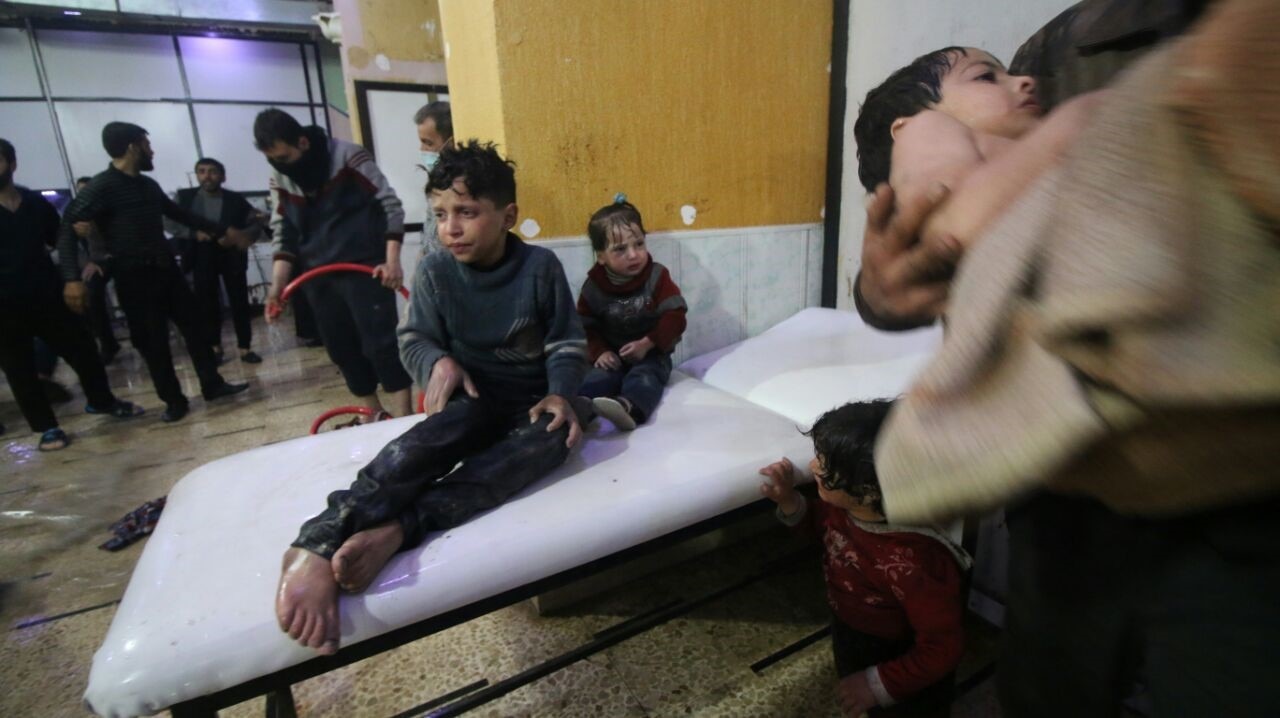 This is the story of a town called Douma, a ravaged, stinking place of smashed apartment blocks — and of an underground clinic whose images of suffering allowed three of the Western world's most powerful nations to bomb Syria last week. There's even a friendly doctor in a green coat who, when I track him down in the very same clinic, cheerfully tells me that the 'gas' videotape which horrified the world – despite all the doubters – is perfectly genuine.
***
The same 58-year old senior Syrian doctor then adds something profoundly uncomfortable: the patients, he says, were overcome not by gas but by oxygen starvation in the rubbish-filled tunnels and basements in which they lived, on a night of wind and heavy shelling that stirred up a dust storm.
As Dr Assim Rahaibani announces this extraordinary conclusion, it is worth observing that he is by his own admission not an eye witness himself and, as he speaks good English, he refers twice to the jihadi gunmen of Jaish el-Islam [the Army of Islam] in Douma as "terrorists" – the regime's word for their enemies, and a term used by many people across Syria.
***
This is not the only story in Douma. There are the many people I talked amid the ruins of the town who said they had "never believed in" gas stories – which were usually put about, they claimed, by the armed Islamist groups. These particular jihadis survived under a blizzard of shellfire by living in other's people's homes and in vast, wide tunnels with underground roads carved through the living rock by prisoners with pick-axes on three levels beneath the town.
***
I walked across this town quite freely yesterday without soldier, policeman or minder to haunt my footsteps, just two Syrian friends, a camera and a notebook.
***
It was a short walk to Dr Rahaibani. From the door of his subterranean clinic – "Point 200," it is called, in the weird geology of this partly-underground city – is a corridor leading downhill where he showed me his lowly hospital and the few beds where a small girl was crying as nurses treated a cut above her eye.
"I was with my family in the basement of my home three hundred metres from here on the night but all the doctors know what happened. There was a lot of shelling [by government forces] and aircraft were always over Douma at night — but on this night, there was wind and huge dust clouds began to come into the basements and cellars where people lived. People began to arrive here suffering from hypoxia, oxygen loss. Then someone at the door, a 'White Helmet', shouted 'Gas!", and a panic began. People started throwing water over each other. Yes, the video was filmed here, it is genuine, but what you see are people suffering from hypoxia – not gas poisoning."