The attacker was a negro and the attacked were Somalian invaders.
"The blood from the stabbings reminded residents Ibod Hasn and Thado Aip of the terror they left in Somalia, they said on Sunday.

Aip's son, Fathi Mahamoud, stayed close by her side Sunday, at times sitting on the grass to lean against her legs as he watched the police at the crime scene.
Wait, WHAT!  An apartment complex full of Somalians who are fleeing the hell hole that all blacks create once they overtake a nation?
Why are we relocating people from Somalia to live in America? If they destroyed Somalia, they are going to destroy this country as well. Why do we keep making these terrible mistakes. Blacks don't create stable societies – they are reponsible for 100% of the rapes in scandanavian countries where they were imported. Just as blacks commit violent crimes like murder and rape 22 times the rate that Europanics do. So why do we want to increase our violent population and destroy this country aren't our prisons overflowing with black criminals already? I think bringing refugees into America is a a terrible mistake unless they are true Europanic refugees like the South African Christians whom we BAN from entering. Refugee-ism is pro-negroid-ism
This also shows the terrible mistake to give free food and housing to imported negro refugees – violent native negros shack up with them and take the resources to continue their criminal ways.
The real story is don't take in Somalians or we will be destroyed by black violence.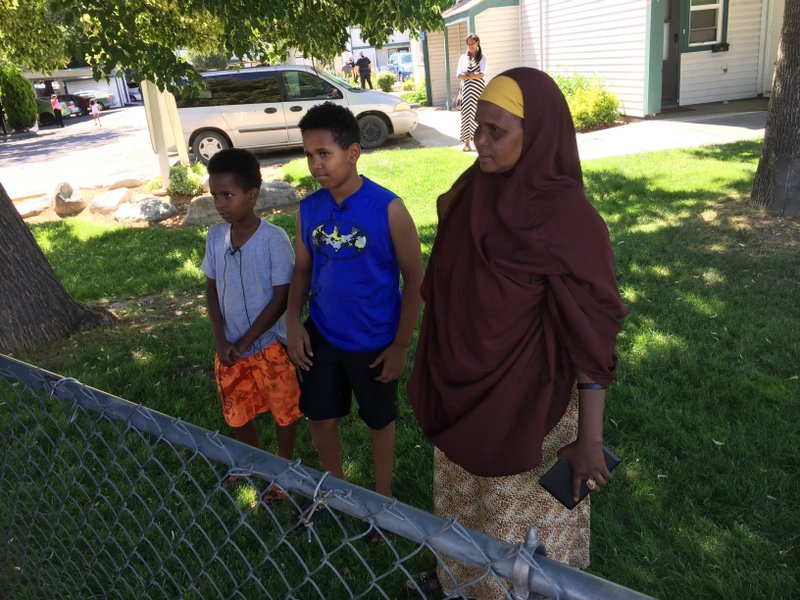 ————————————————
BOISE, Idaho — A man who had been asked to leave an apartment complex in Boise returned the next day and stabbed children celebrating a 3-year-old girl's birthday, authorities said Sunday. Six children, ages four to 12, were injured in the attack, along with three adults who rushed to their defense. Boise Police Chief William Bones said the victims are alive but some are gravely injured.
Timmy Kinner, 30, of Los Angeles, was arrested and charged with nine counts of aggravated battery and six counts of injury to a child, CBS affiliate KBOI-TVreports. Police said they had not yet identified a motive.
The attack took place at an apartment complex home to many refugees. Kinner is not a refugee, police said, but he temporarily lived at the complex until he was asked to leave on Friday. Kinner returned Saturday when the girl was having her party a few doors down from where he had stayed, police said.
"Our victims are some of the newest members of our community. They're victims of their past homes who have fled violence from Syria, Iraq and Ethiopia," Bones said at a news conference Sunday. "This was an attack against those who are most vulnerable — our children."
Bones said investigators have not yet found "specific evidence" that would indicate the attack was a hate crime but said they would be looking into that possibility due to "the nature of the location and the victims."
Esrom Habte, 12, and Fathi Mahamoud, 11, said they were playing behind their apartment when the attack unfolded. Fathi said some of the stabbing victims were their friends.
"It was kind of scary because we were outside," Esrom told reporters alongside his mother. "He was chasing people and stabbing people."
He said the children saw Kinner saying "bad words" and repeatedly "stabbing a grown-up really hard."
The children ran into an apartment and hid in a closet with other children until police told them it was safe to come out, Esrom said.
Police found stabbing victims both inside the complex and in the parking lot, and Kinner was arrested a short distance away.
"The crime scene, the faces of the parents struggling, the tears coming down their faces, the faces of the children in their hospital beds will be something that I carry with me for the rest of my life, as will every first responder that night," Bones said.
Bones said the attack resulted in the most victims in a single incident in Boise Police Department history.