Well it was quite the BLACKars, not the Oscars. So many blacks presented it was hard to recognize all of them, complete with giving Spike Lee Oscar for best Screenplay which left him  FUMING MAD (see below) and Black Panther the Oscar for Best Movie . Cause if Whitey Still Isn't racist, let's rib him over the 1970s when blacks were rampaging horrors burning down cities like Detroit.
Queen Latifah started it off with some chubby Blackitude, then Serena Williams introduced a Star is born.  At least that's a white movie.
Worse, I tried to watch the beautiful Bette Midler performance on the ABC website but was interrupted by a WALMART commercial – homies together – showing a white woman begging to get fucked by a black buck. Yehp. (note: I watched the midler anyways. and yes she is a treasure).
No I won't be watching the oscars again until THEY start making good movies again.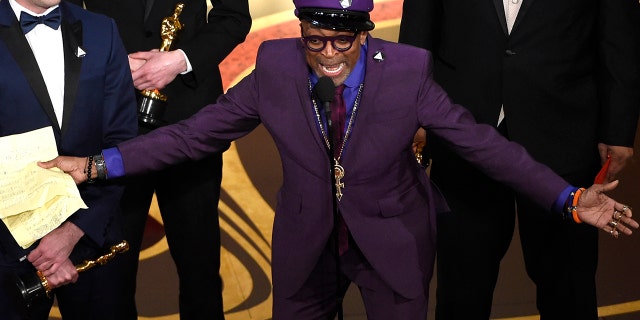 While he didn't take the stage like Kanye West did years ago on the MTV Video Music Awards when Taylor Swift won an award that he felt should have gone to Beyonce, BlacKkKlansman director Spike Lee did the next best thing when the Best Picture Oscar was won by Green Book. Our Pete Hammond, reporting from the Dolby Theatre, reported that Lee was clearly furious, got up and walked toward the back of the auditorium in a huff. He then turned back and appeared to get into an intense conversation with Jordan Peele, who was behind him. Lee paced the aisle and stormed to the back of the auditorium. When he came back, he turned his back to the stage during the speech.
Finally the one spot of sunshine on an otherwise leftie communist rant-a-holic.  Rami Malek won for best Actor for his performance of Freddy Mercury of Queen fame. Not Black Panther. Not KaKaKaKlansman.  Queen.  America is tired of the lefty preeching. Rami did a great job stepping up to a difficult performance, before he fell off the stage.
"I'm Ok I'm OK" said a confused Malek.  If only the rest of the nation could say the same.